Rustic Christmas Table Centerpieces – 7 Farmhouse Holiday Centerpieces!
If you are looking to give your home a rustic or country look and feel, then you will love these farmhouse Christmas centerpieces.
In this confusing time of the pandemic and social distancing, many of us find ourselves wishing for a simpler time.
As the holidays draw near, we recognize that for many of us, the holidays will be simpler without those gatherings of family and friends or those lavish Christmas parties.
However, that doesn't mean that we can't make our holidays special and one way of doing that is by creating a feeling of an old fashioned Christmas including a beautiful and simple Farmhouse Christmas centerpiece.
Having said that, a true farmhouse Christmas centerpiece should combine vintage and rustic pieces as well as bring in a touch of nature.
These centerpieces can be as simple as a couple of tea candles in mason jars set in a wooden box with a bit of greenery and pine cones.
Or as elaborate as displaying a group of vintage Christmas bulbs and Santa's on a three tiered serving dishes with sprigs of holly and pretty ribbons.
Related Home Decor Article:
Best Farmhouse Christmas Centerpieces to Buy Online

#2. Wood Flower Arrangement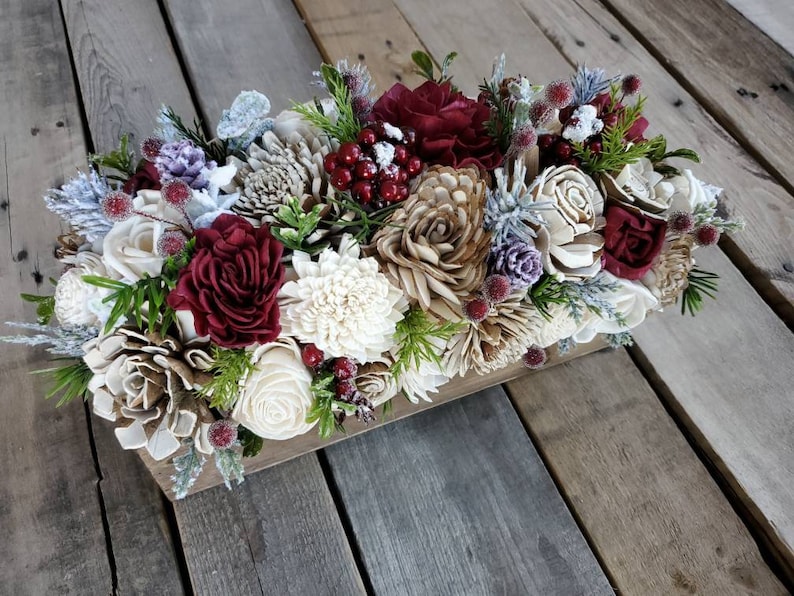 Wood Flower Christmas Centerpiece

This wood flower centerpiece is perfect for your family dinner table and features a wooden box filled with flowers, berries and greenery.
It measures 4 inches high and 12inches wide and is sure to bring holiday cheer to your dinner table.
What to Consider When Choosing a Farmhouse Christmas Centerpiece for Your Table
If you are thinking of using a farmhouse Christmas centerpiece for your table this year there are a few things you may want to consider.
DIY or Buy One Already Made
The first thing you want to consider is whether or not you have the time and creativity to make your own centerpiece or whether you want to purchase one that is already made.
If you are planning on making your own then you need to have vintage pieces that you can use to create your centerpiece. You also need to have the time to plan out and create it.
If you are intending to buy your centerpiece then you are going to want a centerpiece that goes well with the rest of your Christmas décor.
In either case, the cost of that centerpiece is going to be an important factor.
Size May Matter
You are also going to need to consider how large of centerpiece you will need. The larger the table the larger your centerpiece should be.
While a very small centerpiece may be well suited for a table for two, it will look out of place on a large table made to seat 12.
So keep that in mind when choosing the right farmhouse centerpiece for your Christmas table or counter.
The Best Farmhouse Christmas Centerpieces – Conclusion
If a true farmhouse Christmas centerpiece is what you want to make your Christmas décor complete then one of these 7 beautiful centerpieces should do the trick.
Related Christmas Decor Articles:
What do you think about my list of the top rated farmhouse Christmas centerpieces? Leave your comment below.