Affordable Flocked Christmas Trees for Your Holiday Decorations and Where to Buy them Online!

Turn your home into a winter wonderland this holiday season with these artificial flocked Christmas trees. Find out where to buy affordable flocked Christmas trees online.

With Christmas just around the corner, many people are thinking about putting up their Christmas decorations and purchasing a Christmas tree.
If you have your heart set on a flocked Christmas tree this year then this article will be of interest to you.
Related Holiday Article:
In a Hurry?
This is my #1 Pick. It is also the top choice of most of my readers. It is heavily flocked, making it look gorgeous with almost while appearance. And better still, it is very much affordable.
Best Choice Products 7.5ft Premium Snow Flocked Artificial Christmas Pine Tree
What is a Flocked Christmas Tree
A flocked Christmas tree is a tree that has been dusted with artificial snow to give the look and feel of bringing some of that wonderful winter wonderland outdoor landscape indoors.
In the olden days, trees were flocked with cotton, cornstarch, or flour to give that snowy look to trees.
Today, there is artificial flocking specifically made to flock the tree. Besides, you can purchase both real and artificial Christmas trees that are already flocked saving you time and the mess of flocking a tree yourself.
Best Artificial Flocked Christmas Trees
Here is a look at some of the best artificial flocked Christmas trees available this Christmas.
#1. Best Choice Premium Flocked Trees
Best Choice Products 7.5ft Premium Snow Flocked Artificial Christmas Pine Tree
This tree comes in various heights including 4.5′, 6′, 7.5′ and 9′, making it easy to find one in the size you would like.
It is also extremely heavily flocked giving it an almost solid white appearance with only a glimmer of green showing through.
Most customers love this tree especially the 7 and ½ foot one. They do say that it is fairly easy to put up, but that some of flocking does fall off and need to be cleaned up and the branches need to be fluffed. All of which is expected with an artificial flocked tree.
#2. Best Choice Pre-lit Flocked Christmas Tree
Best Choice Products 7.5ft Pre-Lit Snow Flocked Artificial Holiday Christmas Tree
This Pre-lit Tree comes in 4 ½ foot, 6 foot, 7 ½ foot and 9 foot. The flocking is between medium heavily flocked and heavily flocked and comes with built-in lights so all you need to do is set up the tree and decorate.
Most of the people who purchased this tree find it beautiful and not overly messy to clean up the flocking that flakes off during assembly.
#3. UMARDOO – Best Countertop Flocked Christmas Tree
UMARDOO Flocked Tabletop Christmas Tree
This little countertop Christmas tree is a perfect little tree for small studio apartments or the kitchen countertop, tabletop or kids rooms in your home.
Users find that this tree is cute and goes with almost any décor. We like its small size and find it would make a great centerpiece for a buffet table for a Christmas party.
#4. Puleo 6.5 foot Pre-lit Pencil – Best Slim Flocked Christmas Tree
Puleo International 6.5 Foot Pre-Lit Flocked Portland Pine Pencil Artificial Christmas Tree
For those people who prefer those thin Pencil Christmas trees, this tree is an excellent choice.
It is medium flocked and comes with built-in soft white lights. Users like that this tree only takes a few minutes to assemble and looks beautiful once it is decorated.
#5. Flocked Farmhouse Christmas Tree with Pine Cone Decorations
This beautiful lightly flocked tree is 6 feet high and 49 inches wide. It is quite easy to assemble. Once set up, make sure to straighten the tips and decorate.
This tree is full and beautiful and looks great in your home or even office, making for wonderful holiday décor.
#6. Snow Flocked Christmas Tree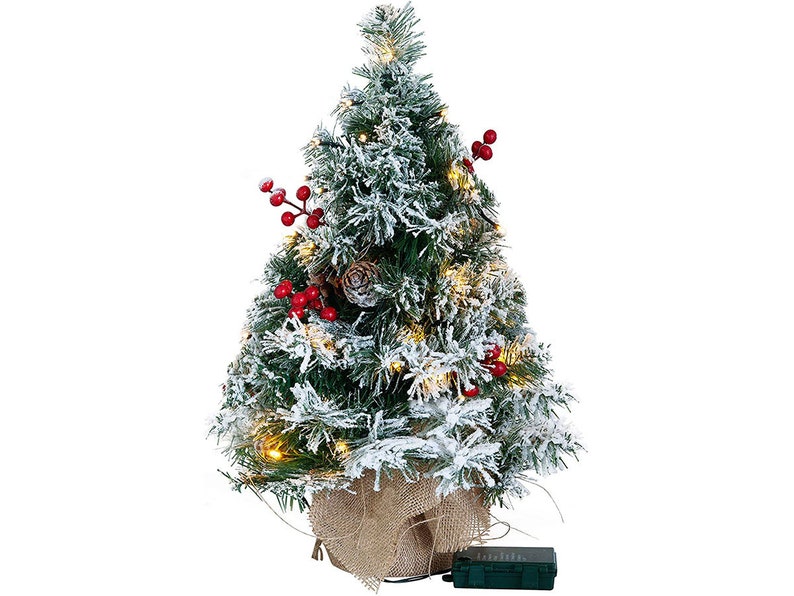 22″ Snow Flocked Prelit Tabletop Christmas Tree

This cute little 22 inch tree comes in prelit (battery operated) and is decorated with red berries.
This little tree is perfect for dorm rooms, small apartments or even as centerpiece for that buffet or dining room table.
#7. Flocked Livingston Fir Artificial Christmas Tree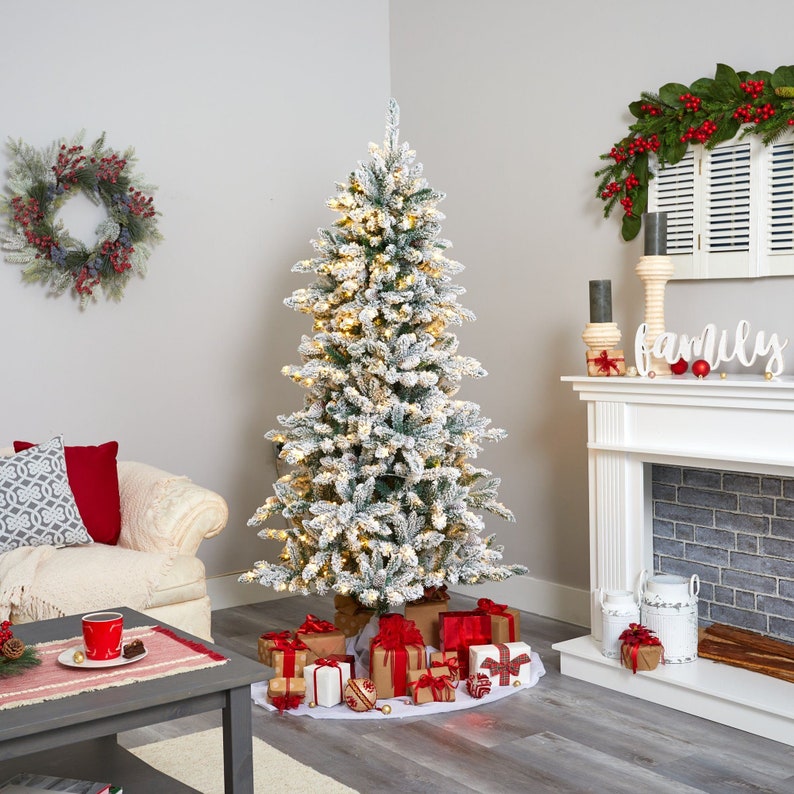 6' Flocked Livingston Fir Artificial Christmas Tree

This 6 foot tall flocked tree has realistic looking foliage with branches that are easy to bend and is prelit with 300 clear LED lights.
This tree will bring to mind those long ago childhood Christmases while encouraging your family to engage in new traditions.
It is perfect for that corner space or for placement next to that spiral staircase. It will look equally nice sitting in the middle of an office or hotel lobby.
This tree looks great with old fashioned and homemade ornaments or elegant modern decorations.
Where to Buy Flocked Christmas Trees Online
There are several places to buy flocked Christmas trees only, but my favorite place is Amazon. Not only are their prices affordable, but I also like that they offer FAST and FREE shipping to Prime members.
Etsy is also another good place to buy flocked Christmas trees.
What to Consider When Purchasing a Flocked Tree – Buyers Guide

When buying a flocked Christmas tree there are several things you may want to consider.
Here is a look at some of the things you are going to want to decide before purchasing the tree of your dreams.
Do You Want a Tree that is Real or Artificial?
The first thing you want to consider is whether you want to buy a real or artificial Christmas tree.
A real tree brings in the scent of the outdoors into your home, but does need special care to keep the needles from falling off and the tree from becoming a fire hazard. Also, some people are allergic to real pine trees.
A well made artificial tree can look like a real tree (at least from a distance.) Does not shed its needles, and most people will suffer no allergic reaction to them. They also can be used year after year, saving you money.
Type of Tree
Once you decide on whether or not you want a real or artificial tree, then you need to decide what type of Christmas tree you would like.
There are several different types of trees used for Christmas trees including Cypress, fir, spruce, pine and cedar.
Each tree has its own unique look and some people prefer one type of tree over another.
Size of Tree
You are also going to have to decide the size of tree you want. People with small apartments may want a small tabletop tree while other people may prefer a 4, 6 or even 7-foot tree for a larger home.
The size of the tree you want is going to determine how expensive the tree will be.
How Heavily Flocked You Want Your Tree
Some people want a heavily flocked tree that makes it look like the branches are laden with a fresh snowfall, while other people prefer just a light dusting of flocking.
Conclusion
If you are looking for an artificial flocked Christmas tree for your Christmas celebrations then one of these trees may make your Christmas more special.
Related Christmas Decor Articles: